Kick Ass Bike Plates team have interesting weeks behind. We were present on Creativity StartUP Training School where we had two interesting days and became the winners of the event. Yeaa! 🙂 We had the best presentation and very likable product! As a winners we received an invitation on International Conference and Investment Forum of Creative and Cultural Industries where we also had a presentation pitch. In previous days we really got the feeling of being a startup. A lot was going and even more was going on inside our heads. We prepared the closer view of our days. Enjoy reading it!
Days of the startup (by Ajda)
27. September 2017
Few days ago a Kick Ass Bike Plates won the Creativity StartUP Training School by Technology Park Ljubljana & Museum of Architecture and Design. As a winners we were invited to pitch on international conference. In few days I (Ajda) got brutally sick. With huge headache I was suggesting Gregor everything he needs to finish. I was in bed and coated with ton of handkerchiefs and Gregor was in front of the computer. We were working together on ideas. In late afternoon we got phone call from Technology Park with simple instructions: »Can we get your pitch presentation in English today?« O shit, due to my sleeping mode I didn't check my mail for half a day. I wanted to translate the presentation on my own, so that I can remember it easily, but due to headache I didn't have a chance to deal with that. I asked Gregor to take care of it. Gregor was nodding his head, because the previous day he wanted to translate it, but I was stubborn on »doing it on my own«. The lesson of this illness was for sure thrusting into my team and to hand over the work. In half an hour we finished the translation and brainstorming, well I had a brain-pain-storm, about how to improve our pitch to make it »professionally styled«. In couple of hours we successfully sent it to the team of Technology park.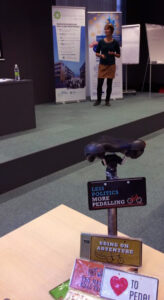 28. September 2017
Next day I had a battle of weakness and a full nose – in the bed. Gregor was writing »lean« business plan, yes we were on couple of startup workshops and now we master all the trendy expressions. Typing was making me sleepy, so Gregor was fulfilling the subtitles in the business plan alone. After that he also made lunch. During that I checked the mail to get feedback on our pitch. My mailbox was still empty. Gregor was going to do the market research, well we made more attractive expression of that and call it »safari of costumers«. 🙂
He was going with his bike and Kick Ass Bike Plate into the city, where he was asking people for the feedback. Due to rainy day the atmosphere was similar and there was lack of bikers. Everyone was thinking, why do you »bother« me. Well, on sunny days in the city park we had much, much better responses.
I was literally hibernating at home, I really lost a lot of strength. In the evening we finally got feedback on our pitch with minor corrections. In half asleep mode I started managing the presentation, but the rest was left for the morning.
29. September 2017
After a large amount of handkerchiefs, I got in front of computer to pimp the presentation. I took advantage of my native English speaking friend and send him presentation for the lecture check. Yes, native speaker friends rules! 🙂 It's quite crazy how many friends had help us in our project even before the product was on the market. Luckily we won't run out of friends and colleagues soon, but also not out of favors.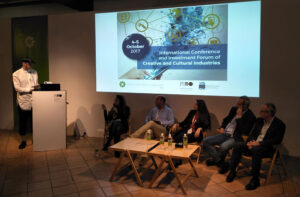 30. September 2017
After whole week Gregor took the day off and went climbing. I was only checking sun rays outside for a while. I practiced pitch, put some posts on social media, cooked the lunch and after that my headache was so strong I only got back to bed. In the afternoon we were discussing possible questions at the conference. Because we did a lot of googling, research, thinking, writing business plan and safari already, we had majority of answers covered.
1. October 2017
I was going crazy of being only at home, also our motivation was a bit down. Like many times we had a feeling that things are not moving and similar sorts of bullshit and fears. In the morning we practiced the presentation and after that we went to spend sunny Sunday with my relatives. It's always a good plan to bring up the cheers. On the way there we're discussing (and googling) all the possible way for our company to head off.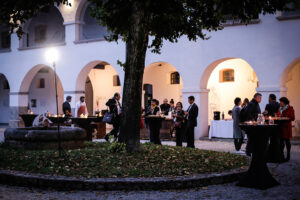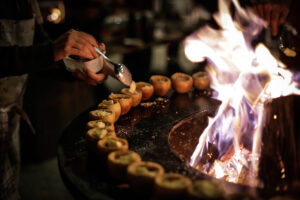 2. October 2017
We met at Technology park to go through the presentation. It only took us 20 min! Feedback was good, they were saying we are ready. Well we doubt that, but let's leave this doubts somewhere else. We got some ideas what to improve, so we went straight into action. Yes, startups can be super productive and motivated! We grabbed the borrowed camera, took our bikes with Kick Ass Plates and started photo-shooting. We manage to took some nice shoots, until the light was starting to go bad …
3. October 2017
I STILL had a headache, probably because I didn't manage to cure myself completely. Well, enough complaining, we are having a conference tomorrow so no time for this kind of crap. I took time to pimp the last details in our pitch. Gregor went on safari again. After that, we're preparing for exhibition table. We put good photos together, put plates on a silk to hang them on the table and whatever else we can thing of … 🙂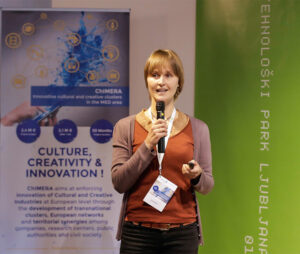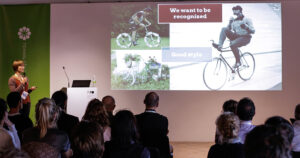 4. october 2017
Start of international conference. Waaaaa so a lot of welcome speeches and other data! After lunch there was program for startups and also the atmosphere has changed. Dinner was actually food performance on open fire! That really made the atmosphere nice for mingling. Talks lead to acquaintances, some business card are exchanged. It was a nice day.
5. october 2017
In the morning we started to prepare our exhibition desk. Pictures for the screen behind us are looking super nice! We had some problems with our plates. We lost a bit of nerves gluing them together to look nice on a silk rope, but in half an hour everything was set. Colorful plates really looked nice and they attracted many looks! 🙂
In the afternoon we had 5 min pitches of startups. The pitches were interesting and each speaker had his own energy. I managed to perform with great pitch, mentors were satisfyingly nodding, we even got some really emotional praises! It felt really good to get positive feedback. We got plenty of ideas how to lead our business and some good acquaintances. This was also the main reasons for our participation. We are leaving with good feeling and a long »to do« list.