We come from Europe, that means that we are secretly obsessed with »sterility« and with too much unnecessary stuff. So each time when we start something new we think of mountain of stuff that we urgently need. Well all that is total bullshit, because there is always the alternative called human creativity and open mind.
So when we were in Kuala Lumpur doing voluntary work in one great bike workshop and resting our eyes on all the wonderful stylish bikes (We must admit that Ajda fall in love with almost all of them) we started to think that it would be great, if we could go on a bike trip. Of course there were all the little voices in our heads like "You don't have all the equipment needed to start touring. Not only that, you have some of that equipment resting at home" and of course there is the one that beats them all "it is to expensive".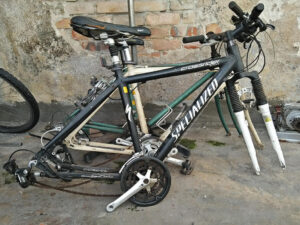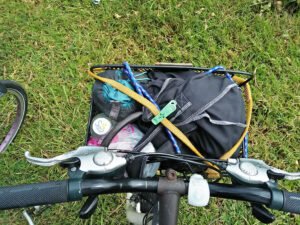 But then we got encouraged by our friends and we made really cheap bikes from junk parts. It wasn't super easy, but we manage to make the rims spherical again and on the long way of self-education the bikes were good to go. They still looked like junk bikes, but they worked. Of course they weren't the perfect bikes, but they were good enough to start.
With other equipment we also adopt Asian simplicity. So we put our backpacks on the rack of the bikes (because we have good touring bags at home). And that was it. We could end up the story here, because this was all the equipment we had for several weeks. No special bags, no special shoes or shorts. Simple, easy and cheap.
Along the way we discovered that equipment we had was good enough, but some improvements are always welcome. So we made investment into front rack and bags, because Gregor's bike didn't have front basket so all his luggage was at the back, which was working well, but it wasn't super pleasant when going uphill. After a few weeks, when the pain on our asses was constantly growing, we bought some bike underwear, which must admit didn't helped as much as we hoped. Later on the way we spoiled ourselves with cycling gloves. But for start there were just two bikes which costed almost as much as the tires and we were good to go. So our advice is don't complicate just follow you inner voice and go.