At the beginning of November, we had a couple of days off and it's a climbing tradition to spend it in climbing paradise Paklenica, Croatia. This year besides climbing we had an idea to cycle 350 km back home to Ljubljana. The day we started it was sunny and windy, actually the wind called bora was blowing. This is a strong and a bit unpredictable wind. On the curved road close to the sea we were lucky, downhill we had wind in our chest and uphill we had a bit of tail wind. That meant we need to paddle all the time, but the clear sky and the views made it easier. On second day, we first had to cycle 40 km to get breakfast. When driving with a car it's hard to notice that this area is actually very unpopulated, especially out of season. We also bought food supplies for two days due to holidays, when everything is closed and considering the wild areas ahead of us.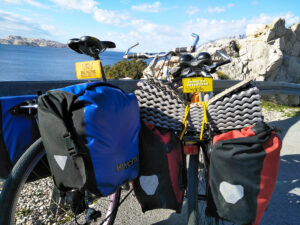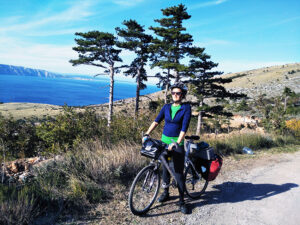 Next day we climbed towards Krivi Put – village at 900 meters' elevation. The views were getting better and better with every meter. At the bottom the blue sea was lighting and houses were getting smaller and smaller. On small road we entered the wildness area with bears, wolfs, horses, sheep, shepherd's dogs. Luckily we only saw the friendly animals this time, altough shepherd's dogs can be quite intimidating. 🙂 What a fantastic scenery only a couple of kilometers from the coast! The beauty kept us there another night. We even found couple of herbs to make delicious tea in the morning. Actually everything you cook on such a trip is tremendously good, probably due to hunger and no other options 🙂 . After crossing this remote area, we entered the civilization again. End of romantic roads, but we made a promise to return one day! In small villages even café bars were closed so we ask for water at one private house. Welcome people filled all our bottles and gave us also some their traditional food "sarme" to go. What friendly people! Short after that my chain broke. We fixed it, but it broke again! Yes, I must admit it was super old and also my shifting system was constantly making its own moves. Regarding that we were approaching the coldest area in Slovenia, broken chain (2-times) and evening approaching, we found a little cottage for sleeping. When we woke up, we found the grass slightly frozen. Yes, the coldest area didn't disappoint! 🙂 We manage to fix my chain to continue and after couple of kilometers manage to buy a new one. This time my shifter decided that it's enough! After struggling with shifter and strong chest wind (of course 🙂 ) we bumped into Gregor's father who offered me a ride home. I didn't hesitate long. Gregor bravely climbed the last hill and 50 km to home.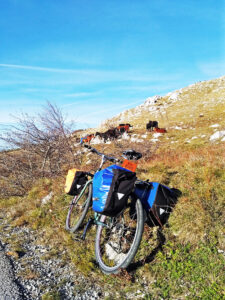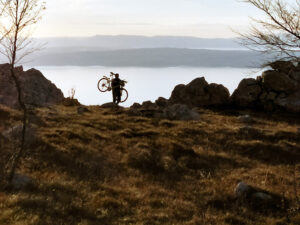 Today when we woke up in our warm apartment we kind a missed warm sleeping bags and cold morning air. But hey, new adventures, we are coming!
Route description:
Stari grad, Paklenica (Croatia) – Senj, on the coast
Senj – Krivi Put, climbing up to 900 meters elevation, magnificent views
Krivi Put – Fužine, trough wild highlights Crno
Fužine – Delnice, back in civilization
Delnice – Prezid (Slovenian border)
Babno polje (the coldest region in Slovenia) – Cerknica (intermittent lake)
Cerknica – Rakitna (last bear area on the way)