We are adventure enthusiasts, fans of good food, world travellers and big bike lovers. We believe that each of us is unique and can make a difference and more importantly, fulfill their dreams. We also think that real magic is in the small things and moments.
Bikers know how to create stories. It's simple, just get on your bike and start pedalling, magical moments will follow your rhythm. But for our bike plates to be born, as usual, the stars needed to align in the right positions, whatever position that was. Surprisingly our idea ripened in the middle of Malaysia. But let's start at the beginning.
Believe it or not our story started with grandma's bicycle. It was one of those classic, nicely designed and well-built bicycles, which can still be found on the streets today. After we added a new layer of paint it turned out to be a very stylish bike with its own soul. That was the moment when we got the idea of adding a more personal touch in the form of an interesting bike plate, that would literally kick our asses to start pedalling more often and in great style!
We have liked to pedal and discover the world by bike since…, hmm…, long ago. It's so nice when every kilometre can bring a new experience, broaden horizons and remind us how great life really is! But we needed to pedal a lot of kilometres at home and around the world before we finally decided that we were ready to present our idea of Kick Ass Bike Plates to the world. We did bike touring along the river Danube all the way through Austria (Lienz-Vienna), from Ljubljana (Slovenia) to Istanbul (Turkey) and from Kuala Lumpur (Malaysia) to Bangkok (Thailand). On the way, we met awesome people, with great bike workshops full of unique bikes, where interesting people were passing by on their beloved bikes. So, in Kuala Lumpur, Ajda refined her idea in a friend's bike workshop The Basikal (a short movie about the workshop) and got her sister on board. After setting up the team, Ajda with help of the friend Gregor built the bikes out of garbage parts and pedal towards Thailand. 🙂
All these trips really opened up our minds on what really matters while riding a bike and more importantly, why we are doing all these kilometres. It's about love and effort, about the views, the sweat, the road, the nice secret paths, the sun and rain, the stars and the moon, the forests and beaches, about loneliness and great company, silence and laughter, hunger and local food, reaching beyond and getting over, proving to ourselves that we will not quit, and feeling a bit badass after a great ride, escaping, feeling free, strong and alive. And simply it's because we just love to ride and we love our bikes. We honestly believe that life is a beautiful ride.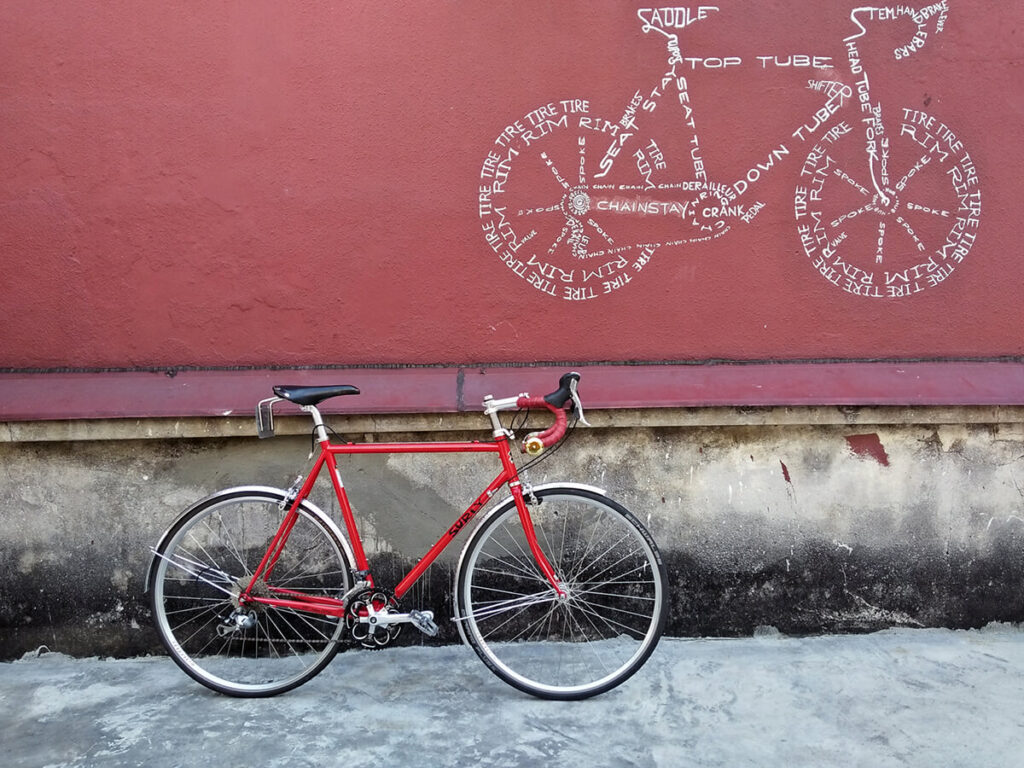 This is for all bike lovers from bike lovers. We believe that every bike has its own soul and a lot of stories.
Our team: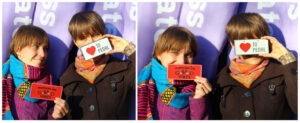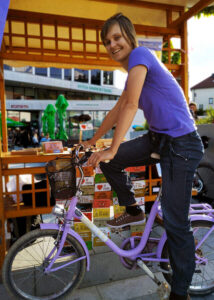 Ajda Flasker – if you need some positive energy come and see me. 🙂 I am an energetic person who likes to smile. I love life, nature, all kind of sports, traveling and interesting people who inspire me and broaden my horizons. Sometimes it is hard for me to be still because ideas are just popping out of me. But I manage to find my stillness in running and meditating, where all the mess in my head becomes quiet, at least for a while. I also believe that an honest smile is a good start for everything. I used to be a postdoc researcher in molecular science, but I found new challenges in establishing this company. I was so enthusiastic that my "little sis" Ana was immediately on board.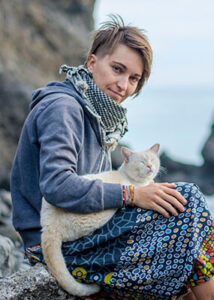 Ana Flasker – some people call me a nomad GEEK, because I'm freelancing in UX & UI design and have been travelling around the world for a couple of years now. I'm constantly discovering new places that have some kind of internet connection – or even if they don't. I take care of the website. I recently got addicted to kitesurfing! If there is no wind, you might find me playing beach volley or running the trails. 🙂