The holder is attached to the seat post and will fit a broad spectrum of round seat posts with the perimeter 6.9-10.1 cm (2.72-3.95 inch). Holder fits on vintage, city and sporty bicycles. If your bike is really special and you want to be completely sure about the perimeter, please measure it.
Make sure that your bike seat is at least 4 cm above the frame so there is enough place to mount a Kick Ass Bike Plate. Please have in mind that a basket or a child seat on the back rack could prevent you from mounting a Kick Ass Bike Plate with a holder. However, you can still mount a plate with cable ties to another part of the bicycle.
How to measure the perimeter of the seat post:
If you don't have a sewing meter, you can use a longer piece of paper or thin rope. It will not be a precise measurement but will be sufficient enough for bike plate holder.
1. Place the longer piece of paper or thin rope around the seat post. – see pictures
2. Mark the measurement with a pencil on paper or knot on the rope.
3. Measure the length of the paper or rope with a ruler or measuring meter.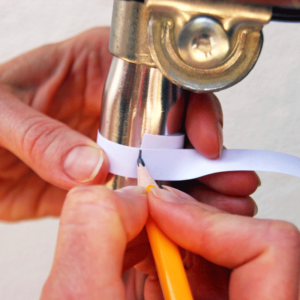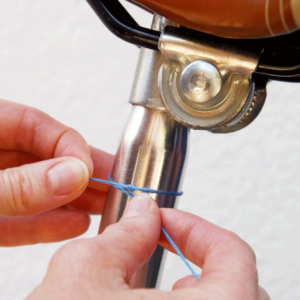 How to install a holder with Kick Ass Bike Plate?
If your holder is from aluminium (the old version), please follow this link.
Step by step instructions