With the help of some cool bike gadgets, you can manage to transform your bicycle to something unique, awesome, personal and stylish. Weather you're looking for a budget options to pimp your bike and or you're willing to spend a bit more to make the old bike looks nice, we've some tips for you. Here is our ultimate list with the best gadgets and ideas to pimp my bike you can use today! It will make your city bike stand out immediately!
1. Paint It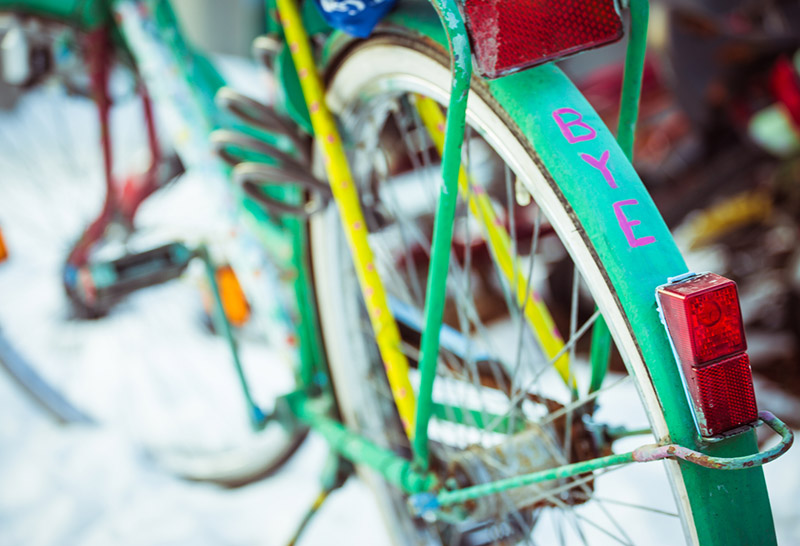 If you own an old bike or if you just bought a second-hand city bike, you should start by painting it. Spray-painting an old bike is an excellent solution. You can opt for bold colors matching your personality. Not only you can pick from a broad spectrum of colors (including fluorescent), but don't forget about deep matte colors, metal paints, shiny glitter additive you can mix with some paints. It's recommended to use transparent finish spray (top coats) – either in gloss or matte version for long-lasting results.
You can go a step further and use a mesh or some fabulous stencil mandala or floral designs and get some amazing patterns on your bike. For extra funkiness don't forget about glow in the dark paints!
If you're a more patient or talented painter, use a brush to paint the details on your bike.
2. Seat & Saddle Covers
A low-budget idea to pimp my bike is to get a seat cover. These will immediately improve the looks of your bike. Seat covers are generally cheaper than a new fancy seat, but if you have a budget, a good and comfy seat is well worth it! Maybe you just want to cover the worn-out seat and get your bike an extra touch and style. You can find covers with many different motives and colors, if you fancy colors; otherwise check out some evergreen seats!
3. Handlebar Grips
On a second-hand or old bike handlebar can look pretty worn out and dirty. It is of the easiest pieces to re-style and make look as new. Either by new handlebar grip, grip rings, or handlebar grip tape. There are numerous options in styles and colors you can choose from to replace those. Make sure you opt for some handlebar grips for your bike that are comfortable to use and don't leave you with too sweaty hands. Pick anything from wood, leather, rope, or colorful (soft) silicone in vibrant colors. Spice it up with handlebar grip rings in a different color.
4. Handlebar Grip Tape
Depending on the handlebar your bike has, you might use grip tape instead of regular grips. You can get the tapes in different colors, pattern and materials.
When it comes to upgrading an old bike, we highly recommend anti-slip cycling handlebar wraps. These have that hipster vibe we all love and serve both an aesthetic and functional role. Usually, the grip tape is comfy, your hands are not sweaty and in general, they are well known to road cyclists.
5. Hanglebar Grip Rings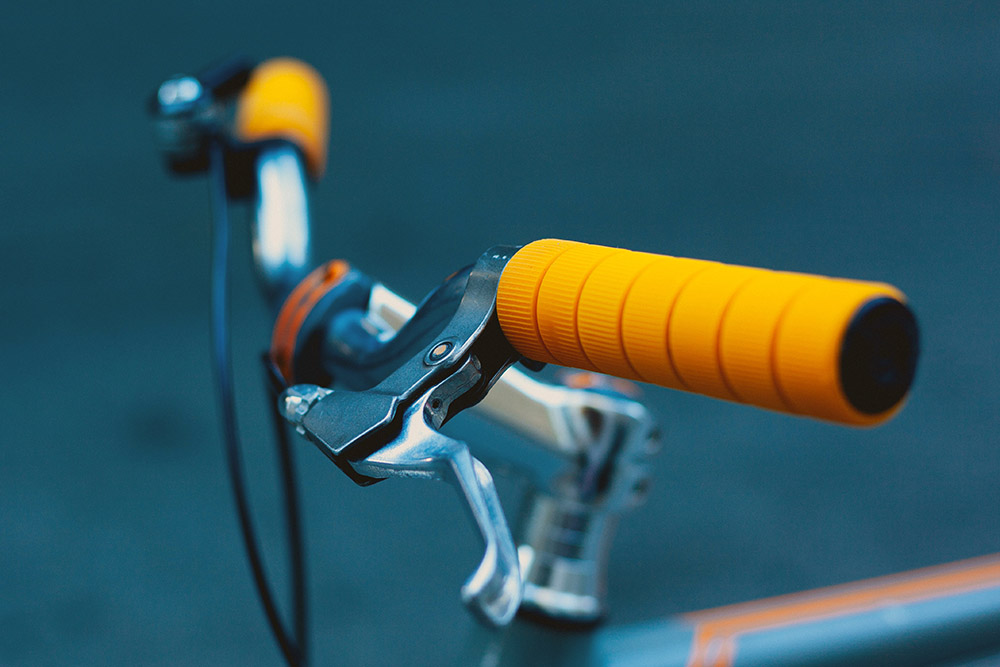 If you love vintage bikes or BMX style, you most likely look forward to some new grip rings. These serve a practical purpose and at the same time, they can look gorgeous on any bike. Grip rings prevent your hands from slipping. Go a step further and use only grip rings for your handlebar and you'll definitely have a unique bike.
Bonus: Bike streamers ribbons
6. Pedals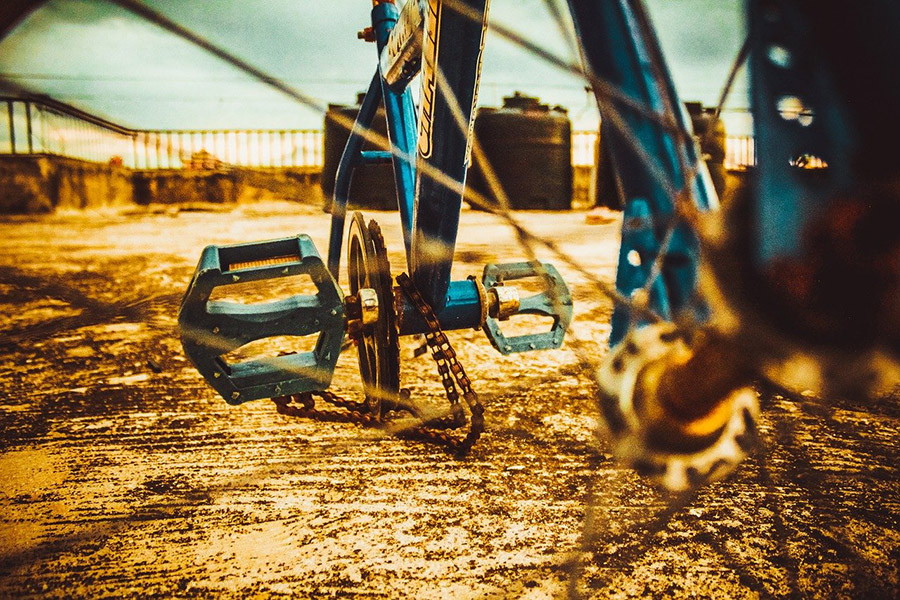 Pedals represent another component of your bike that experiences a lot of wear and tear. To add an additional "pimp my bike" touch and safety, consider new pedals. Flat, platform or clipless bike pedals are the go-to choices for a city bike. These can be purchased in a wide array of colors, complementing your bike's design. For extra visibility get the pedals with reflective part. If you fall in love wooden pedals or pedals without reflectives, you can always get additional set of reflective straps to install on your bike (or you).
Once you start exploring what kind of pedals are available, you'll be overwhelmed. Not only numerous colors, but also styles and materials. Surely pick something comfy & anti-slip.
7. Spokes and Spoke Wraps
Colorful bike spokes are a must for any cycling enthusiast. There are no longer reserved only for BMX bikes, but – especially the spoke wraps – an inexpensive way to make your bike stand out. Do you want to own the most funky bike in your area? Get the LED bike spokes! They create magnificent patterns while you cycle and keep you very visible at night. While replacing the spokes might be a bit tricky for a non experienced DIY pimp my bike person, spokes wraps and LED spokes are easy to install. Don't forget to mix in a few reflective spoke wraps.
8. Bells & Horns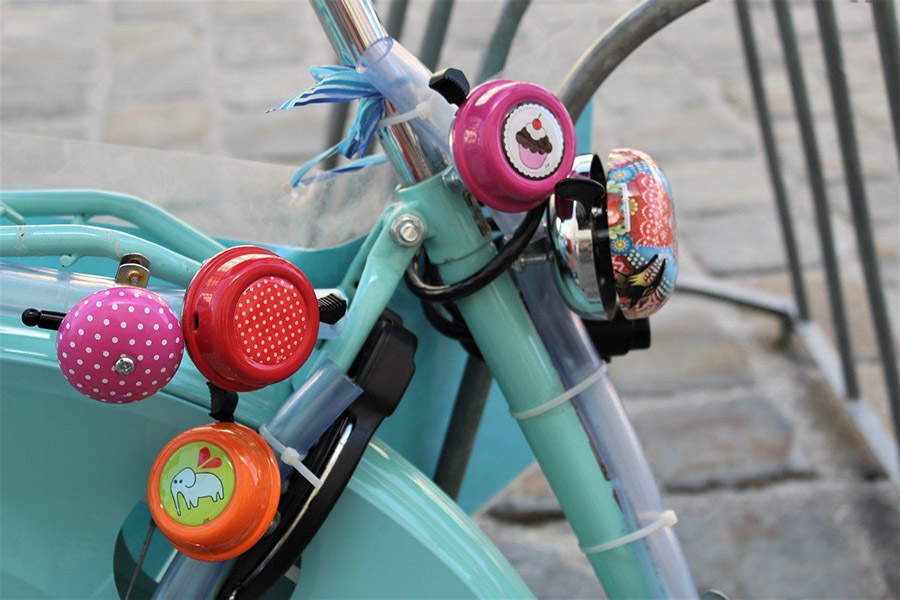 A urban bike needs a bell or bike horn or any other "thing" that can be loud enough – without triggering a heart attack to another person 😉 . And if you're upgrading your bicycle, we recommend you use classy bike bells or vintage bicycle bells. Both models have a particular flair that will make you fall in love with such accessories. A must for an urban bike. Opt in for deep matte colors, funny shapes or bright patterns!
Continue to Part 2