Cycling in winter could be amazing; but that's if you're are fully prepared and adequately strapped up. You get to enjoy the glamorous sunrises and sunsets, calm foggy paths with barely no one in sight. With the aid of contemporary equipment, clothing and a little bit of forethought, you are set to ride your bicycle happily through the winter snows and chilly hills.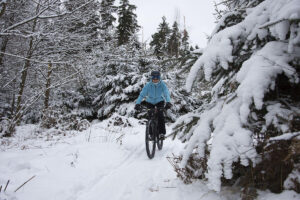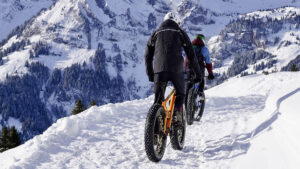 Average cyclists tend to get scared, leading them to hang up their bikes at the mere sight of snowflakes. They are missing out because as your body system battles to stay warm during winter, according to research carried out at the Northern Arizona University, you are not only going to be burning out some calories, your body will also be conditioning itself into using oxygen more efficiently. Howbeit, riding your bike in the cool fluffy snow of the winter season can be an incredibly fun outdoor recreational activity. In this article, we'll be looking at how to dress up, during winter cycling, we'll also be taking a look at some safety measures to be aware of.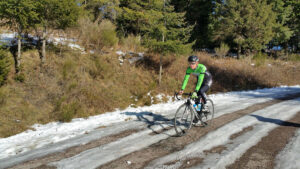 First, let's take a look at how best to dress?
The good old layer clothing
When it comes to what to wear during winter bicycle rides, donning multiple layers of clothing is practically the best idea. Being equipped with the right windproof, thermal and waterproof gear could essentially keep your body so warm to the extent that you hardly feel what the actual temperature is outside. A complete set of winter clothing could chew hard on your wallet, however, choosing carefully and layering up could provide options ideal for a range of temperatures. There always a temptation to want to go for fleeces and waterproof clothing to keep the cold out, but then again, you must take into consideration the fact that these will make you sweat even at zero degrees. There is a high probability that sweat will accumulate underneath your clothes, making you feel wet, clammy and cold. Try to use of cycling specific clothing, as using clothes meant for other outdoor activities may not be suitable for the position you will adopt when riding. They also may not possess the essential properties guaranteed to keep you warmed up. Top quality winter/windproof hand gloves and overshoes are sure to keep your hands and legs warm as these are the most vulnerable parts to getting cold. In essence, your hands and feet typically get cold first, and this is because your body focuses on warming your core parts. If you really intend to enjoy your winter bike ride, keeping your extremities warm is of utmost importance. Some riders use disposable surgical gloves just underneath the regular gloves being worn. Not sure about the adequacy of the clothing you are wearing, you can simply take a stroll outside for a few minutes to have a feel of the temperature. Remember cycling is a form of exercise and would already warm you up a bit.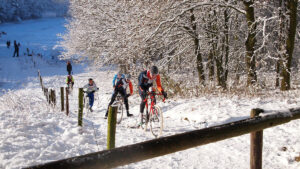 Safety is key!
You don't want your fun ruined in the cool of the winter and that is why safety measures must be put in place before embarking on that cycling trip. Here are a few tips to keep in mind.
Lower your saddle: By lower the saddle of your bike, you're lowering your center of gravity, which would improve the stability of your bike. This will come in handy especially while maneuvering through icy patches. Lowering your saddle will also make it easier to manage skidding peradventure it happens. This is because your legs will serve us balance while on the bike.
Ease your tires: Do not make the mistake of pumping those bike tires tight. Maintaining slightly saggy tires will give you more grip on any slippery icy path. Some Scandinavians go for some peculiar winter tires all toughened and spiked up, that may be an overkill, but all depends on your budget. Also, standard fat tires are always better for you than a thin bike racing tire.
Keep an eye on the road: Fresh dusty snow could serve as a pretty covering to a dangerous gully or abandoned pit, so you need to always keep an eye on the road. It's advisable to cycle away from curbs and snow banks. Always bear in mind that any road path that is all glittery will most likely be slippery whether dry or not.
Protect your hands: The importance of protecting your hands cannot be overemphasized. Always keep your fingers and knuckles warm enough as this determines your steadiness.
Ensure that your bicycle is road worthy: Never overlook or assume the condition of your bike. Being stranded in a snowy weather could be devastating so you need to be adequately prepared for the worst. Make sure your brakes are functional, check out your reflectors. It will do you good to make sure a hand pump is strapped to your bike as well just in case.

Our personal addition, make sure you have a good bell, since stopping fast can be tricky.